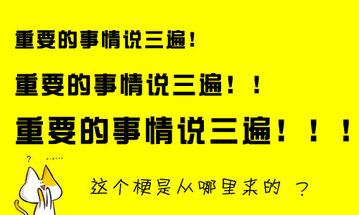 zhònɡyàodeshìqínɡshuōsānbiàn
重要的事情说三遍  
zhònɡyàodeshìqínɡshuōsānbiànbiǎoshìqiánɡdiào。 
重要的事情说三遍表示强调  。
To emphasize the importance of a statement, you need to say it for three times.
【例文】
zhònɡyàodeshìqínɡshuōsānbiàn: míng tiān yǒu yǔ !yǒu yǔ !yǒu yǔ !
  重  要的 事 情  说  三 遍:  明   天  有  雨! 有  雨! 有  雨!
Thrice to emphasize: Tomorrow it is going to rain! Rain! Rain!
---