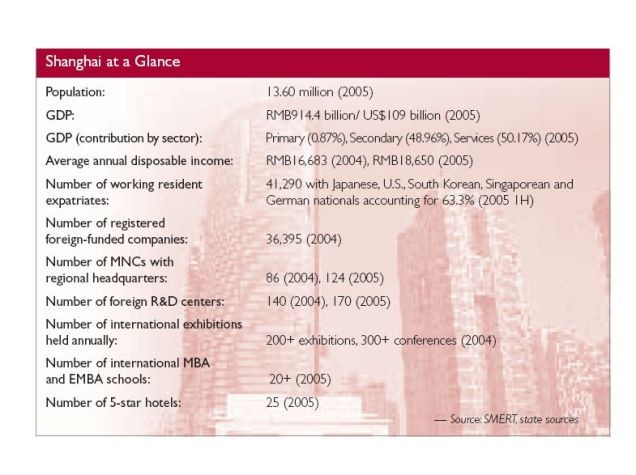 About shanghai 
Shanghai's Past
The People's Republic of China was established in 1949 under the chairmanship of Mao Zedong (1893-1976). The country's emergence as a modern nation took off with reforms by former Communist Party leader Deng Xiaoping (1904-1997) to decentralize the economy and open the market to foreign participation in the late 1970s. Since then, the country's dramatic transition has continued at a rapid clip. Annual GDP growth of about 10 percent over the past decade has been accompanied by landmarks – including the establishment of the Shenzhen and Shanghai Stock Exchanges in 1990, the reclaiming of Hong Kong and Macau in the late 90s, and accession to the World Trade Organization in 2001 – making China a hotspot for international business. Economists rank the country as the world's fourth largest economy and some expect it to surpass the U.S. to become No. 1 by 2035.
Little development took place in the city during the 20th century as China made a rocky transition to a new political and social regime. When the country reopened its doors to foreign participation in the late 1970s, Shanghai finally embarked upon a period of extended growth that continues today. Recent landmarks include establishing China's first stock exchange in 1990, constructing China's tallest building - the 88-story Jin Mao Tower - in 1998, winning the bid for the 2010 World Expo in 2002, and opening the new Yangshan Deepwater Port in 2005.
Shanghai Today
After 14 consecutive years of double-digit annual GDP growth starting from 1992, which placed the city in the international spotlight, Shanghai stands at the crossroads of becoming a major center for the finance and service industries, in addition to manufacturing. Manufacturing still accounts for roughly half of Shanghai's total GDP, but according to figures quoted in China's revised economic census, services made up a record 50.8 percent of total municipal GDP in 2004. This breakthrough was accompanied by rising foreign direct investment (FDI) in ser vices and falling FDI in manufacturing, in part a result of municipal policy to emphasize service industry growth and China's push to meet its WTO-commitments to open several key service industries to foreign participation, including banking and insurance. In 2005, more than half (53.5 percent) of total service industry investment in Shanghai came from foreign investment.
The city's real estate sector in particular grew to new heights over recent years. About 20 percent of China's total real estate industry value came from Shanghai, which saw 1 million housing star ts in 2004 even though prices had soared to twice the 2001 level. Moves by the central government in 2005 — including taxes and other charges on real estate transactions— have helped to cool down the sector. The city's real estate is only expected to grow by 20 percent in 2006, compared to 30 percent in 2005. Shanghai is also consolidating its natural role as China's main transpor tation hub.
The city's Waigaoqiao Port facility surpassed Singapore to become the largest in the world in 2005 in
terms of annual throughput, which rose year on year by 16.7 percent to 443 million tons. Also at the end of 2005, Phase I of Shanghai's Yangshan Deepwater Port opened in Hangzhou Bay, giving Shanghai a further push to the forefront of worldwide shipping.
— Sources: National Bureau of Statistics, state media
Sights in Shanghai

This city in the south-eastern Shanghai province that borders the sea offers up a world of delights for all travel tastes and preferences. It's a fast-paced city, so get ready for intense touring around a bustling city that rarely sleeps.
Food in Shanghai
For a taste of the decidedly vast, all-embracing (海派hǎipài ) melting pot of flavors from all over the country and world, the ever-expanding port city of Shanghai offers up delectable dishes from the more budget friendly street food to the most refined of menus.
Transportation in Shanghai
Shanghai is easily the most populous city in China and occasionally feels like being caught in a concrete jungle filled with wildlife you might never expect. However, getting in and around Shanghai is as easy as you let it be in most cases. Like any major city, there is no shortage of public transportation.
Nightlife in Shanghai
During its history, Shanghai has been called The Pearl of the East, The Great Athens of China, Paris of the East, even Sin City. The city has been glorified and vilified generation after generation, but the one thing that has never changed is the opportunity to let loose and have a good time.
---