About Cultural Activities
HuoDong maximize the students grip on Chinese Culture. Hanyuan Chinese Language school organizes weekly Cultural Events and activities, inside and outside of our campus. All of the events are thoroughly planned and participants are accompanied by our professional staff.
The activities aim to teach students about Chinese Culture and encourage each participant to use his/ her Chinese. The events are usually held in our campuses in Beijing and/ or Shanghai.
Events include
Movie Nights screening Chinese movies and discussing them afterwards
Culture Nights (Chinese Calligraphy, tea ceremonies)
Walking tours  (cultural tourism )
Game Nights (Chinese Chess and Majiang)
In order to Learn Chinese to the highest standard it is important to develop a firm grip on Chinese Culture, the introduction of Cultural Activities alongside our full immersion attitude will set you in the right direction!
Shanghai hairy crab   大闸蟹 dà zhá xiè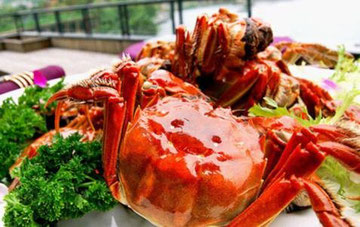 Shanghai hairy crab   大闸蟹 dà zhá xiè
The Chinese mitten crab, also known as the Shanghai hairy crab 
(上海大闸蟹, p Shànghǎi dàzháxiè), is a medium-sized burrowing crab 
that is named for its furry claws, which resemble mittens, and is native
to the coastal estuaries of eastern Asia from Korea in the north to the 
Fujian province of China in the south.
It has also been introduced to Europe and North America where it is
considered an invasive species.
We will have a Crab Party on 2016/11/19 18:30
Welcome to join us  !!!
Please feel free to contact us !
Fee:  250RMB/person
Email: hanyuan@jicsh.com
TEL:  (021) 5306-7271
---
0 Comments
---
---